"By Matt. Manly, Captain Company D.
"COMPANY B—Wilson County—John Howard, Captain; Lieutenants: John C. Gorman, Calvin Barnes, Orrin Williams, William Howard, Robert E. Calder, Garry Fulghum, B. J. Barnes, L. B. Boyette, W. G. Ferrell.
"Captain Howard was mortally wounded at Sharpsburg, September 17, and died October 4, 1862.
"Calvin Barnes was appointed to the command of Company A, and transferred with the company.
"John C. Gorman then became Captain, which rank he held to the end. He was wounded several times. His last wound was received near Petersburg, in April 1865.
"Orrin Williams was promoted, and transferred.
"The company was greatly indebted to Lieutenant Robert E. Calder for its discipline and proficiency in drill. Lieutenant Calder was a cadet of the Hillsboro Military Academy. He was a very popular officer, and was painfully wounded at Malvern Hill, losing an eye.
"Lieutenants Bemzan Barnes and Ferrell were also wounded at Malvern Hill, while Garry Fulghum and L. B. Boyette were paroled at Appomattox."
[Editor's Note: Larry Bryant Boyette (1836-1913) was the son of James Boyette (1806-1882) and Sidney Williamson (1812-1889). Sidney was the daughter of Thomas Williamson (1770-1856).
Read more of the History of the 2nd NC…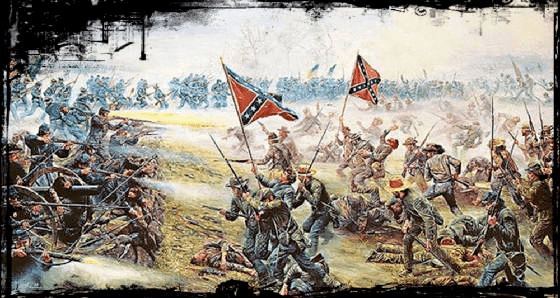 [Battle of Malvern Hill. Read more about the battle here.]